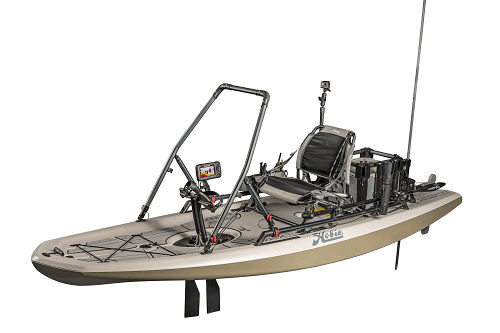 Brand:

Hobie

SKU:

84500122

UPC/Barcode:

792176899174


Make it even easier to stand, board, and deboard your Hobie Lynx kayak with our H-Bar standing support. Hobies H-Bar installs in a matter of minutes using the included hardware, a manual screwdriver and a 3/8" wrench.
Follow along with this detailed video as Howie guides you through the process of outfitting your Lynx with a Hobie H-Bar. Included are special tips and tricks for adjusting the H-Bar to fit any height user, and folding it out of the way when you dont need it in the upright position.
The H-Bars 12-sided aluminium construction allows you to securely mount any H-Rail accessory to its frame, yielding extra utility!
Featured Product:
84500122 HOBIE H-BAR LYNX
84626106 H-RAIL, LYNX KIT
84501113 H-BAR RAIL MOUNT
The screws for the forward inserts are included but the specs for the screw are:
#14 x 3/4 inch long
Corse Thread
Phillips Pan Head
Sheet metal screw
H-Bar Standing Support Installation
Check out these other Lynx Accessory Upgrades
Recently Added Products
Regular price

From: $99.95